Congratulations You're Engaged! You're wedding day is picked out! Now the hard part begins. You have twelve months to plan your wedding…
What do you do? Tell me, What. Do. You. Do?
Let's Begin!
Twelve months to go until you're big day.
Announce you're engagement! (Duh) I'm sure for most of you, seeing as how it IS the age of technology, but you should also consider announcing your engagement in the paper. It's the more traditional path but it's definitely a nice touch.
Choose you're wedding theme, style, and color scheme for the wedding! Pinterest is a godsend. If you aren't sure what you want for your big day or just need some inspiration Pinterest is your go to place. Of course, If you're like me, one of the first boards you made on Pinterest was your "wedding" board so you might already know exactly what you want down to the smallest detail.
Start looking for your wedding dress!
Get wedding insurance. Honestly, I didn't even know this was a thing until I started writing this blog but it's a must have! Wedding insurance is there in case something goes wrong with one of hundred things you're spending money on for your wedding. With the right policy, wedding insurance can insure that even if the biggest disaster strikes, like loosing your venue that you've already paid for, you will get that money back. This, in fact, happened to a colleague of mine. Her wedding venue was shut down and the owner ended up going to jail so she couldn't get her deposit back! That was $6,000 down the drain. If you want to know more about wedding insurance check out this article from The Knot.
Eleven Months
Decide on your budget for the wedding and who is going to pay for what.
Come up with your guest list. Remember to keep your budget in mind though, more people costs more money.
If you're going to hire a wedding planner or a day-of coordinator, begin interviewing candidates.
Ten Months
If you've decided to use a wedding planner then it's time to hire them.
Choose and book your wedding venue and schedule a rehearsal time at the venue.
Choose and book your reception venue (if your wedding venue and reception venue are different) and leave a deposit.
If this wasn't one of the first things you did, choose your bridal party! Maid of honor, best man, bridesmaids, groomsmen, ushers, and ring bearer and flower girl if you choose to have them in your wedding. Some couples don't.
Start researching wedding vendors such as photographers, officiants (this one is probably the most important), florists, caterers, etc. Set up interviews, and go over their reviews and portfolios to decide on who you'll choose.
Start shopping for your wedding dress. Wedding dresses can take a long time to come in and then you also have the risk of needing to be refit for it which tacks on more time so the sooner you choose your dress the better.
Nine Months
Book your photographer
Get your engagement pictures taken!
Book your officiant
Meet with potential caters and have food tastings then select and book a caterer.
If you're planning on having a band or a DJ at the reception, now is the time to book them.
Eight Months
 Finalize your guest list
If you have people coming from out of town, reserve blocks of hotel rooms for them
Choose and order your save-the-date cards
Seven Months
Send out your save-the-date cards
Order thank-you cards
Set up your registries
Six Months
If you've decided to use a day-of wedding coordinator then it's time to book them
Book florist
Hire videographer if you want video of your wedding and reception
Schedule tastings for your wedding cake
Book your ceremony musician
Book accommodations for your wedding night
Rehearsal dinner host should select and book the venue
Decide on bridesmaids dresses and have your attendees place their orders. Again, it can take a while for dresses to come in so the sooner they place their orders the better.
Plan and book your honeymoon
Five Months
Choose your invitations and decide on the wording. Will you go traditonal, modern, or a little bit of both?
Order wedding cake and groom's cake
If you're planning for it, book your hairstylist and makeup artist
Choose groom's and groomsmen's attire
Four Months
Purchase the accessories for your wedding gown
Provide guest lists to your maid of honor and best man for your bridal shower, bachelorette party, and bachelor party.
Three Months
Finalize the menu with your caterer
Confirm number of bouquets, boutonnieres, centerpieces, etc with your florist (make sure to see samples and/or sketches)
Meet with officiant to plan the ceremony
Order wedding favors
Confirm party plans with maid of honor and best man for the parties
Purchase wedding rings
Choose accessories for everyone in the bridal party
Shop for gifts for the wedding party
Research marriage license requirements
Send out wedding invitations
Two Months
Start compiling a playlist for your wedding reception (make sure to include a list of must-plays and do-not play songs)
Confirm rehearsal time and rehearsal dinner time and then alert your wedding party
Start wearing your wedding shoes to break them in. You don't want blisters on your wedding day!
Create your 'must-take' photo list for the photographer. On the day of the wedding, everything is extremely hectic and you could completely forget about the pictures you really wanted to have. I'd suggest after making this list give it to, not only the photographer, but the maid of honor as well
Make appointment to have your wedding dress fitted.
One Month
Plan and finalize the wedding day schedule and send the information to your wedding party and vendors
Give a final head count
Confirm delivery time and location with your wedding cake vendor
Confirm with all other vendors and honeymoon plans
Finalize all payments with your vendors
Prepare your speeches and vows
obtain your wedding license
Do a hair and make-up trial run
Rehearsal-dinner host should send out invitations
Have final dress fitting and pick up the grooms tux
The Last Few Days Before Your Wedding
Pack for wedding day and honeymoon
Make sure the wedding party has their outfits
Get a manicure and pedicure
Practice your speeches and vows
Give gifts to members of your party
Rehearse the ceremony with your officiant and wedding party
Day Of The Wedding
Attend hairstyle and makeup appointments
Arrange enough time for photography
And last but not least. Enjoy your day. You're getting married! After planning for the last twelve months, you know everything is going to run smoothly, so have fun.
Go on and marry the love of your life already!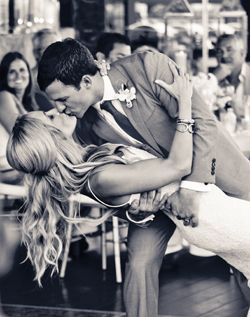 Love,
That Bachelorette Show