Etsy is a magical place where you can find everything you could possible need and some things you didn't even know you wanted!
In case you don't know what Etsy is, it is a marketplace where people around the world connect to make, sell and buy unique goods. You can find everything on this website. From beautiful handmade jewelry, to handcrafted lace, art, supplies, decorations, the list goes on and on! However, today on the blog we are going to focus on the wedding side of Etsy.
I've put together a list of a few of the great finds I found while searching through Etsy's site and I thought I'd share them with you today.
When it comes to planning a wedding, I believe, hands down, that Pinterest and Etsy should be at the top of your list of go to websites. I've discussed Pinterest already in multiple posts so now it's Etsy's turn!
Let's start with guest books shall we?
In my experience guest books can be hit or miss. Some are just notebooks with unlined paper while others are super fun and creative concepts, like my friends Jenga guest book I mentioned in a past post, that not only will the couple remember, but the guests will as well. Because of that, I've picked out 3 "guest books" that I think are really great.
The Watercolor Guest Book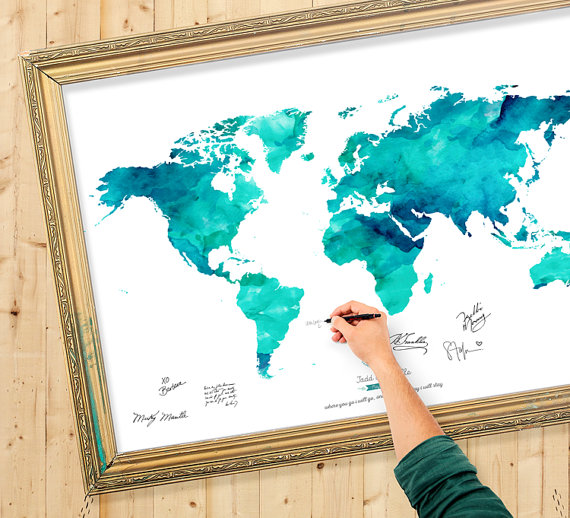 I love this take on a guest book for your wedding. It's perfect for the couple who loves to travel around the world OR has guests coming from all over. It's something that you can frame and hang over your couch in your living room
This watercolor guest book can be found through this link and the creator of this gorgeous piece is Macanaz.
The Artist Print Guest Book
I think this guest book is so adorable! It's more of an artist print than a guest book but it's so cute and whimsical and would look beautiful framed and hanging somewhere in your home.
You can find this guest list here at the Etsy shop HelloAm
The Custom Wood Guest Book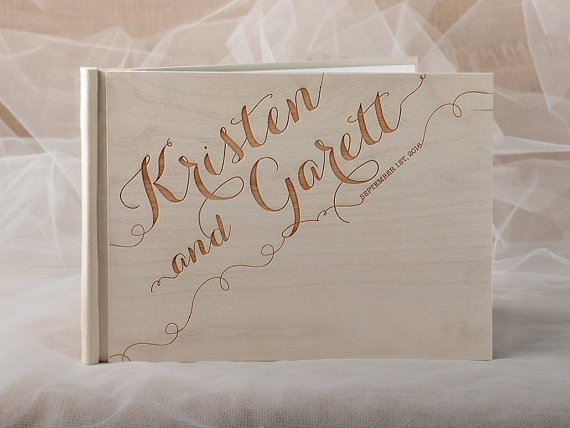 This one is more along the lines of a traditional guest book but with a twist of elegance. There is something so classic about the use of wood and it's something that won't deteriorate with age as easily as other ones might and makes for a fantastic keepsake.
You can find this item here and the shop name is forlovepolkadots.
Let us move on to wedding favors.
With wedding favors, there are seriously THOUSANDS of options to choose from so I chose two that really just spoke to me. One is something that I've always adored and love seeing how they can be used in decorating for events while the other is something so unique I've never seen it before!
Succulent Wedding Favors
I don't know what it is about succulents but I love them! I think they are such a cute wedding favor. It's something that everyone can keep and they aren't hard to take care of and isn't a favor that will be used, or eaten, almost immediately.
You can find succulents all over Etsy but this set is listed here and the shop that sells this item (among others of course) is TheSucculentShop
Calla Lily Gift Soap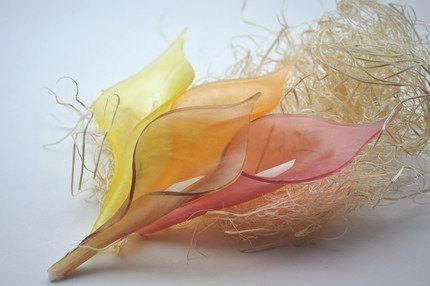 I am OBSESSED with this soap. I don't know if I've been living under a rock or something but I've never seen such delicate soap before! I've also made soap a few times in my life (if you haven't you should! slightly dangerous because of the lye but totally worth it!) and I think these would be amazing wedding favors.
You can order these soaps in an assortment of fragrances such as honey almond, lilac, and japanese lotus blossom (as well 13 other kinds) here and the shop that makes these beautiful soaps is DecorativeSoapsByD
Up next are hair accessories for your big day!
The Floral Crown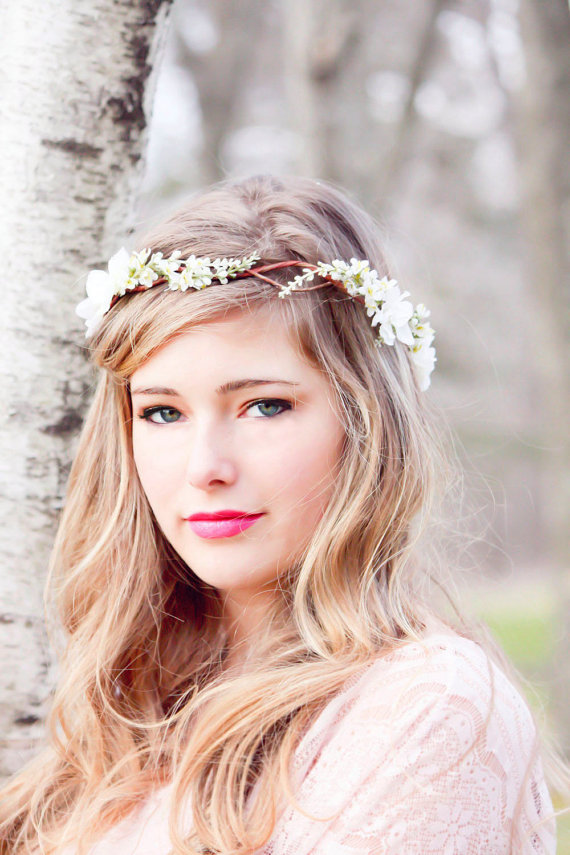 I am in LOVE with this floral crown I found on Etsy. Bohemian wedding themes are very popular right now and I think this would bake a gorgeous addition to any brides look.
You can get this particular crown here but if I were you I'd hurry because you might miss out on your oppurtunity. This shop, serenitycrystal, is very popular. I had another crown I was going to show you but in the 10 minutes I took to start writing this blog and post the link to it, the crown had already been sold.
The Grecian Head Piece
This is another head piece that I absolutely adore. It's a lot simpler than the one above but no less stunning. If you'd like to see this piece in particular than click here or check out the shop, Ayajewellery, for even more wonderful work.
And last but not least, here are two simple but sweet decorations you can use at your wedding.
Paper Garland
This is a simple and sweet way to add some color and whimsy to your wedding, bridal shower, or reception. I just love this garland with it's multiple layers!
You can get this piece here and check out the Etsy shop LaMiaCasa for more paper goods for your wedding!
The Rustic Sign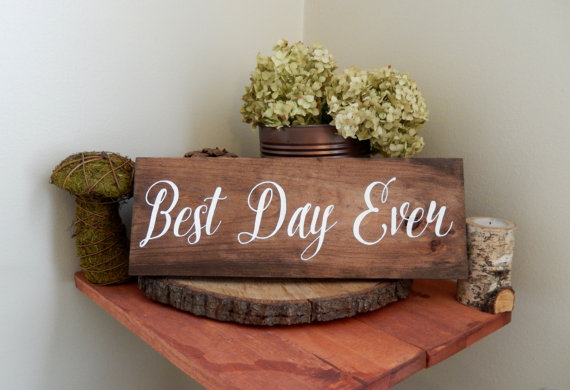 This sign speaks for itself. It's an adorable touch to your reception, specially if your wedding is centered around a rustic theme. It's simple, sweet, and something you can keep for years to come.
You can get this sign here and make sure to check out NaturalDesignsByRio for more decorations!
I hope this post has given you a little insight into the world that is Etsy. It's a wonderful place where you can spend hours on it and find everything that you could possible want for your wedding or any other part of your life.
If you've never checked out Etsy then come join us! The water's fine!
Love, 
That Bachelorette Show