So guess what? It's that Time of the week again!
In case you weren't around last week, or just forgot (don't worry, you're busy, we understand) we have started a weekly blog post that feature a free download. These downloads include awesome prints, in sizes ranging from 5×7 to 11×14, wallpaper for your desktop, iPhone, and iPad, invitation templates for weddings, bachelorette parties, lingerie parties, and basically any other invitation you can think of, in all the major themes/styles that are trending, as well as cutesy illustrations. So…in honor of the end of the work week and as a little present from us to you for surviving another week, these free downloads will be every Friday.
So, do you know what day it is? It's Friday!
Who's stoked? I'm stoked!
Today's free download is for your desktop background. I know your computer comes prepared with a plethora of wallpapers for you to use, but honestly, it get's kind of boring look at the same mountainside, or the same starbursts, or even just the same color every day, of every month, of (possibly) every year. Don't succumb to the darkness that is boring desktop backgrounds. Don't do it. I'm begging you! Instead, check out this sucker.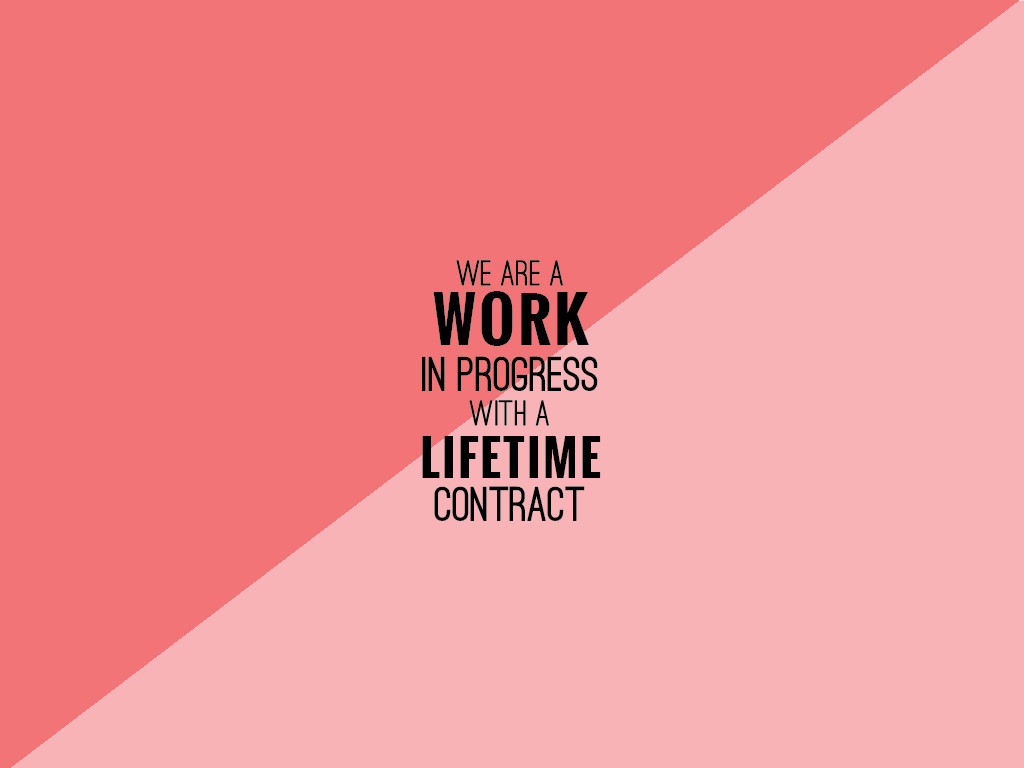 I chose the saying "We are a work in progress with a lifetime contract." because it's SO true. Some people think that getting married solves all your relationship problems. "If we get married, everything will be perfect." That's not true. You're still going to fight, you're still going to get your feelings hurt, you're still going to find each other annoying at times. You might even want to bash their head in at one point or another during your marriage (hey, no judgement here. I can guarantee that every married couple, has pondered it at least once. Think i'm kidding? I'm not. Go ask some older married couples.) The point is, even though there will be hard times, and you WILL have to work to keep your marriage alive and well, not just get married and figure you never have to do anything to keep the love alive, you still love each other. You have your whole lives to work together and lift each other up. It'll be rough at times, but it's all worth it in the end.
With that being said, click the image, or click here to download this desktop background.
Love,
That Bachelorette Show